If I hadn't gone running today, I never would have discovered that my city is on a huge river.
Verdun is gorgeous! I don't know why people say it's sketchy. Verdun has been considered the slums since like...the 70's, it's a town outside of Montreal that has been growing in popularity due to its cheap rent and, I guess now I realize, the view! It's about as sketchy as any urban suburb would be minus the crime and the filth. So....not sketchy at all. There were a couple of gangly teens kicking around a soda can while on roller blades but I didn't really feel threatened by that somehow...and the creepiest guy in the park today was just walking down the bike trail with a SUPER lurker grin on his face. But anyway, Verdun is packed with schools and parks and libraries and bike paths that I never would have discovered had I not sucked it up and put on my running shoes.
After about 45 minutes of power walking and jogging I got to a huge grassy clearing at the end of town. It was a pretty amazing moment actually, I was weaving my way through the neighborhood streets (and passed a dog sleeping in an armchair...lolz) when I suddenly saw a big blue horizon. I felt like my primitive instincts kicked in and I just booked it for the shore.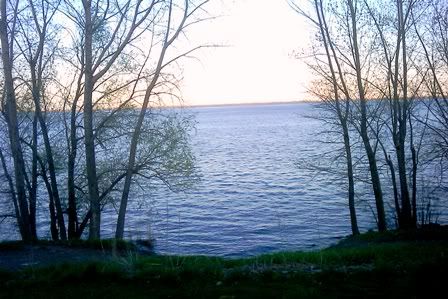 This is what I found. I sat under a willow tree near the shoreline, saw some otters swim by, and tried to count how many new puppies were out on their walks. Too many to count.
It's amazing what some good scenery and vibes can do for motivation to exercise. I want to run there everyday and explore the bike path with my cruiser. And thank goodness Verdun is not hilly like downtown is (right next to Mount Royal), I like my land level thanks to my weak Floridian constitution.
All in all a good day. I'm still kind of trying to get back in the swing of things, get into a routine. I'm on the right path to doing so though, I'm hopeful :)
Today's stats:
-180 something lbs, I need to get a scale to continue writing this down
-1500 calories
-6 cups of water
-1 hour and 20 minutes of walking @ 5mph, 10 minutes jogging 5.5mph approx
362 days to go.
-B.B